The poncho is a garment often overlooked but which if used in the right way becomes a very versatile garment and trendy. Discover with us the proposals for this winter and how to combine it with different looks.
The poncho, like many clothing, was born out of necessity to warm up the body and repair it from the rain. Today it is used as a fashion accessory. It is a leader versatile and can be used both day and evening over a stylish dress.
1. Not only Peruvian ponchos
The Peruvian poncho is the most widespread, of medium length and with fringes. There are many other variants of ponchos, the type changes mainly depending on the country of origin:
The poncho chamanto is typical of Chile: a particularity of this type of ponchos is that it is reversible and therefore wearable from both directions. Traditionally one hand is decorated with light colors and one with dark colors, the light side must be worn during the day and the dark of night.
Jorongo or Sarape is a Mexican poncho is made ​​of very light materials and bright colors. In Mexico, especially a few years ago, it was a male garment because it was used by the men to shelter from rain and cold.
The poncho chilote comes from Chile and is made ​​of wool. It is a poncho very heavy and designed to keep you warm even when wet or damp. The decorations are wide stripes in shades of gray or brown.
Ruana is a poncho spread in the cold regions of Venezuela and Colombia, this poncho is made ​​of wool and is knee-length.
2. Rain poncho with hood
These types of ponchos are used mainly by those who make day trips, are made ​​of waterproof and water resistant material.
There are no fashion versions of the rain poncho is used as the material does not readily adaptable to be a fashion garment or combined with the look sophisticated or trendy.
However, there are some versions of poncho with hood easily adaptable to the look of every day; They are still not very many, but are starting to take a little foot at a time. For example, in the winter collection H & M this year we find a poncho with a hood plush fabric with washed denim effect.
Jaded London instead launched a men's line hooded poncho made ​​of lightweight fabric, with Aztec prints and oversized fit. Esprit has made ​​ponchos for women with very long hood and versatile paintings, purchased in different colors. Even vintage Havana has chosen to launch the poncho with hood for this winter and even in this case predominate aztec motifs, according to simplyyellowpages. the poncho with hood River Island for this season are made ​​to knit, the bottom is asymmetrical and aztec motifs are also in these models .
3. Why choose ponchos and how to match it
A garment that falls on the body as the poncho enhances the silhouette, helps especially those with short torso and long legs: perfect with skinny jeans and high heels.
The poncho is not only winter garment but it is perfect for mid-season, worn over the clothes without the need to go with it under a jacket. A classic look to match the poncho is coupled hat + high boots for a very fine result and chic. If your poncho is colored or patterned instead to make it stand out even more choose a total black look.
How shoes can match any type of shoe, recommended boots that reach the ankle. To bring out the poncho and give it a more rock attitude you can go with it instead of pants or leggings skin.
Those who love accessories, and wants to give a twist more to tie the poncho waist using a belt and if the poncho is long enough can also be used like a dress with tights underneath.
4. Poncho Burberry Prorsum
This year become fashionable again the poncho was the fashion house Burberry that has plagued many dive with its customizable poncho! The celebrities have sported the likes of Cara Delevingne, Olivia Palermo, Sarah Jessica Parker, Suki Waterhouse and many others.
The poncho is double-faced wool and cashmere, made in Scotland. It is inspired by the traditional blankets in equestrian style, the reason is the classic Burberry check in different colors.
The poncho is customizable and you can make sewing your initials on it. The price is very high since the brand level, but let us dream!
Gallery
How to Wear a Poncho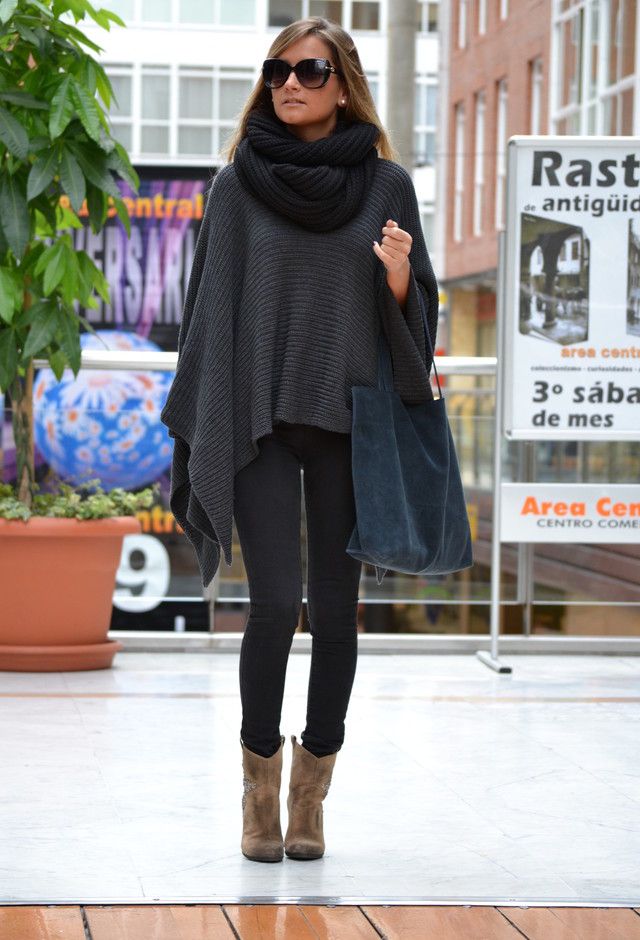 Source: www.stylewile.com
How To Wear Ponchos
Source: wardrobelooks.com
What Poncho To Wear This Year 2018
Source: fashiongum.com
How to wear poncho
Source: glamourina.net
What Poncho To Wear This Year 2018
Source: fashiongum.com
OUTFIT {HOW TO WEAR A PONCHO}
Source: www.mackenziehoran.com
What Poncho To Wear This Year 2018
Source: fashiongum.com
10 Ways to Wear a Poncho
Source: laurenmessiah.com
20 Style Tips On How To Wear Ponchos
Source: www.gurl.com
How To Wear A Poncho 2018
Source: fashiontasty.com
What Poncho To Wear This Year 2018
Source: fashiongum.com
20 Style Tips On How To Wear Ponchos
Source: www.gurl.com
5 Ways to Wear a Poncho
Source: www.youtube.com
How To Wear A Cashmere Travel Wrap
Source: www.worldtraveltribe.com
Persephone Poncho Crochet Pattern
Source: blog.expressionfiberarts.com
17 Best images about Projects to Try on Pinterest
Source: www.pinterest.com
Elle Fanning displays carefree summer style in short …
Source: www.dailymail.co.uk
AsEstilo Store: FASHION PONCHOS FOR WOMEN
Source: www.asestilostore.com
File:TUX-Cholito-Peru.jpg
Source: commons.wikimedia.org
Mom Fashion
Source: www.jolynneshane.com